This website may earn money from qualifying product recommendations in this well-researched article.
Are you trying to go for a bold platinum look? Or perhaps try out neon colors, which you haven't tried before? Well, if you are there's no way around hair bleach, and we're here to tell you which are the best for you.

With the best hair bleach in place, you can do it yourself right from the comforts of your home. No more reading boring waiting magazines while you are waiting for your chance. However… bleaching your hair is an invasive process to go through, so we want you to make sure you took all the precautions needed. Find instructions to a safe hair bleach bath at home here.
And without delay, check out our new picks:

Wella is a common name in the hair care products. Naturally, you cannot go wrong with the multi blonde powder lightener from Wella. Depending on your hair color, you can have really vibrant results. What's more, this product is gentle on your hair, so you won't have any split ends or frizziness when you use it.
If you are planning to use a powder lightener for highlights, this product lives up to your expectation. It is an effective bleach with 'anti yellow' system for your hair, meaning you won't have to worry about yellowing. You can put it on and wait for half an hour to get a platinum blonde hair. This is safe for both your scalp and hair, and for proper results, you need to keep it for 50 minutes, but keep checking to make sure you don't go beyond the time needed. Mix it in the ratio of 1:1 or 1:2 for optimum results.
Pros
Any product that you choose has some positives and negatives. Let's have a look at the positives of the product
Easy to use
Provides vibrant results
Gentle on your scalp and roots
Doesn't cause frizziness or yellowing of hair
Cons
As with everything, there are some negatives:
Requires 50 minutes to set in and work, which might be long for some
Requires a sulfate free shampoo to make the color last long
Now that you know about this best hair bleach for your hair, check out why 80% people love this product.

This product from Clairol comes in three different sizes. You can choose from 1 oz, 8 oz or 32 oz. To obtain best results, you need to mix this with a 10 or 20 volume developer. Once you mix it properly and apply it to your hair, you will get a fluffy, silky hair in your favorite tone. One of the reasons why this has made the best hair bleach list is the time it takes to set in. In just 20 – 30 minutes, you can lighten it to a strawberry blonde. However, if you want platinum blonde, all you need to do is add a 40-volume developer and allow it to set properly in your roots.
Pros
The positives of Clairol Bw2 Powder Lightener are
Minimizes powder flyaway
Can be used on virgin hair
Works very fast and shows result within 30 minutes
Can be used without heat
Cons
The shortcomings of the powder lightener from Clairol are
If you are looking for a powdered, easy to dry hair bleach, then you need to check this out from Clairol.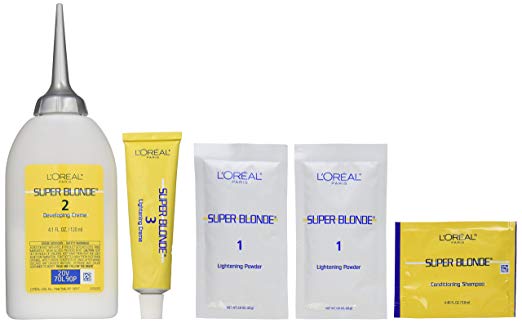 A list of best hair bleach in the market is incomplete without mentioning the L'Oréal Paris Super Blonde Créme Lightening Kit. This product comes in two different colors – 200 Bleach Blonde and 205 Super Bleach Blonde.  One of its features is that it uses a cream formula, unlike others. This makes it easy to apply, and dry, compared to other hair bleach products. Since it is a cream solution, you can use it on virgin hair, i.e. a hair that you have never bleached. What's more, with this you need not apply conditioner once you have washed your hair.
Pros
Some of the benefits or the positives of L'Oréal Paris Super Blonde Créme Lightening Kit are
Can be used for all types and colors of hair
Uses a cream solution for bleaching making it easier to set in
Can be used without heat for lighter color hair
Comes with a natural built in conditioner
Hydrates the hair while coloring it
No strong smell
No scalp burning or itchiness – it is 100% safe to use
Cons
As with anything, there are some drawbacks of this product. They are
Might need some heating to provide optimum results
For darker hair shades more time is required
Need a toner for proper effect
Considering all the positives, you can see that the pros outweigh the cons. Check out where you can buy this amazing L'Oréal Paris Super Blonde Créme Lightening Kit at best price.
Final Words
Contrary to popular belief, if you care for your hair, bleaching is quite normal, and safe, although it requires some care. You don't need to use a lot of products or extraordinary safety measures when you are trying to decide on the best hair bleach. Just a toner and a volume developer based on your hair type can do wonders for your hair.
If you are using cream based hair bleach, you don't need to worry about using a volume developer. However, using a toner is always a good choice. You can also use bleach safe shampoo for your hair, so that you can retain your hair color for a longer duration. Be sure to treat your hair to nice hair dyes. If you're looking for more info on that, head over here and read about how to can treat your hair well.
So, if you are looking for the best hair bleach in powdered form, you can always choose Wella Blondor Multi Blonde Powder Lightener. On the other hand, if you are looking forward to a cream based solution, you can choose L'Oréal Paris Super Blonde Créme Lightening Kit. All you need to do is choose a specific product and get started with it!