This is the last guide you'll ever need to start cutting your own hair at home. Why? Because it covers everything you need to know:
what tools to use,
the secrets about cutting long hair,
pitfalls to avoid with short hair,
what to do if you make a mistake,
and much, much more.
We'll even take a look at how you can eventually make money from your newly acquired skill. Ready? Let's get started …

chapter 1
Can I cut my own hair?
Cutting your own hair at home is cheap and easy, and can be a fantastic way to extend the lifetime of your haircut — or even avoid going to the salon altogether.
It gets better:
An average haircut, depending on the location and type, can run you from $15 to as high as $150 or even more! On a yearly basis, this really adds up.
What's the secret to saving thousands every year that so many people have already discovered?
Cutting your own hair.
In fact, saving money is one of the most popular reasons people cut hair at home. What do you think are the other reasons?
Why do people trim their own hair at home?
I looked at the popular subreddit /r/CutYourOwnHair for answers.
Here are a few reasons …
It saves a ton on your cut as well as your family's
you can get a haircut whenever you like, even at night
hairdresser's ideas won't be forced on you
no small talk with the stylist
being able to articulate to the barber exactly what you want
valuable skill to have, allowing you to make cash on the side
Here's how to take advantage of this great saving idea yourself:
In this massive guide, I'll explain my personal techniques to cutting my own hair. We'll delve into secret tips and sometimes unusual tricks that helped me and many others maintain a smart hair cut for 0 dollars.
It starts with the right tools. Here are my personal recommendations …

chapter 2
Self hair-cutting tools
The tools you need to cut your own hair will pay for themselves in a few months. This is why it makes sense to invest more upfront, especially so if you're planning to also cut your family's hair.
But, careful:
Don't make the mistake of getting a cheap pair of clippers. I've heard of hair clippers dying in the middle of a cut, with the poor owner left to their own resourcefulness. In this case, putting on a hat!
What tools do you need? Here are the top picks:
–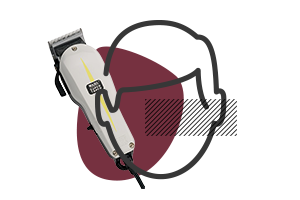 chapter 3
How to cut your own hair short
Short hair can be a challenge as mistakes are not always easy to fix. Fortunately, most hair clippers are a breeze to use and offer the secret sauce that make cutting gorgeous fades a piece of cake.
Here's how to use them …
For best results, get familiar with your clippers before cutting! And then carefully read this definite tutorial of DIY short haircuts:

You'll need to pick a haircut. Luckily, we have illustrated cheatsheets for the most popular clipper cuts you can simply follow step-by-step for a fail-proof cutting experience. They feature exact clipper blade sizes so there's practically nothing that can go wrong.
This is where you'll find them:

–

chapter 4
How to cut your own long hair
If your face is wider or round in shape, you may look better growing out your hair. Long hair style works great for any gender, and it's recently become one of the most popular men's hairstyles.
Are you lucky enough you don't have to wait for your hair to grow?
Awesome! Let's take a look at how you can effortlessly tame your mane at home.
This tutorial will give you detailed steps on cutting your long hair for kick ass locks:

Admit it, we've all been there …
Cutting my own bangs, only to realise they're getting shorter and shorter and more uneven by the minute.
To be fair, cutting your own bangs is the change we need sometimes. But how do we make sure that the result doesn't leave us in tears?
The solution is actually really easy:
This simple tutorial will make sure your bangs get the treatment they deserve and you a wonderful new haircut.

–

chapter 5
How to make money cutting hair
I guarantee you — once you cut your own hair successfully a few times, you will get friends asking for cuts.
This is why:
Haircuts are expensive, and everyone likes to look good.
So why not start offering your hair styling skills as a service? These are the hand-picked resources I dug up to help you take your skills to the next level.
Who knows? Maybe you'll have your very own hair salon one day.
These classes you can take from the comfort of your own home:

Can't commit the time to an online class? Perfectly understandable. Have a look through my list of time-tested books on hair styling.

A more unconventional way of earning once you cut your hair is by selling it.
Talk about making money while you sleep!
You can make hundreds of dollars with each sale, just by looking after your hair. Find out more about the process in my essential dos and don'ts article:

–

chapter 6
What if something goes wrong?
In my experience, cutting your own hair is a fairly safe thing to do. If you take your time and breathe slowly, you'll be able to pull off the haircut you wanted. But some days things just don't go as planned.
One doorbell ring later … and your hair is a mess.
I know what you're thinking:
"What if I screw something up?"
Everyone says "don't worry, it grows back" but it's not them walking around with messed up hair, is it?
Let's take a look at the measures you can take if something unplanned happens to your haircut.
Here's a well-known hush-hush hairdressers' secret:
use hair thinning scissors to cover up uneven hair. It's quick, it's easy, and can save you a lot of headaches.
Check out this list to order a pair:

Your hair may be completely beyond salvageable.
My sincere condolences, but please don't panic!
There are a few things you can do right away, completely for free:
you can shave your head, get a buzzcut, or wait till your hair grows back. Which one will you choose?
–
As a final option, you can always go to a professional to fix your hair. They'll charge you, but you would've have to pay for their service anyway even if you never attempted your DIY haircut!
Conclusion
You don't need to cut your hair year-round. Learning how to touch-up a haircut will save you a ton by extending the lifetime of a haircut. It's the perfect life skill to learn and to teach to your kids.
What's your opinion? Did you like this guide?
Please share it and rate it with five stars so more people can learn how to cut their own hair at home!