If you've always thought about becoming a hairstylist, now is the time! There is nothing holding you back from honing your passions and turning them into something that can make you money each and every day. All you need is one of these hairstylist classes to help you.
It's time to start working at a job that you love and that brings you closer to like-minded people. Best of all, when you change someone's appearance, you often help them accept and embrace a whole new side of themselves. It's a beautiful thing that hairdressers do on a daily basis.
If you're confused about how to choose a top hairstyling classes online, you're not alone. That's why we have compiled several different online academies that can launch your new career as a hairdresser.
To find the best, we knew that we had to do some research. We had to make sure that these online courses set students up for success and prepared them for certification or licensure. They also had to be well worth the money since most of us don't have thousands of dollars to throw at a so-so school.
Moreover, while theory is important, practical application is something that is often lacking in many hairdressing courses. Furthermore, students should learn how to communicate effectively with others and market their services and themselves.
The trainers and teachers at the hair academy need to know what they're doing so we look at teacher credentials as well. We also make sure that the course content is comprehensive and actually pertains to what hairstylists do on a regular basis.
Now, let's jump in and look at some stellar hair courses you might be interested in exploring.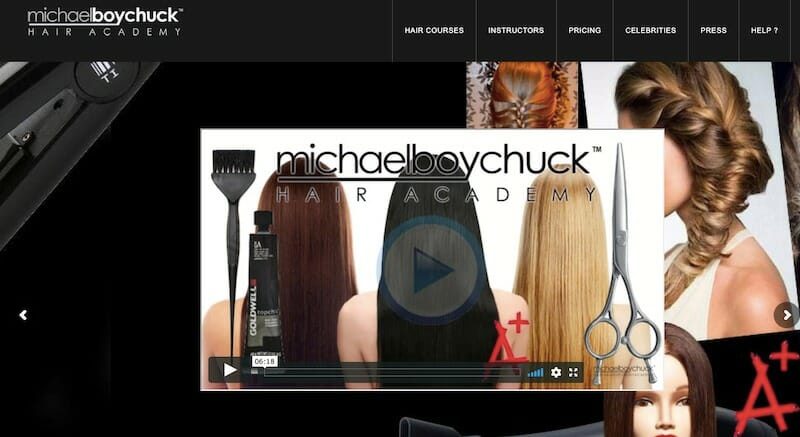 Michael Boychuck is the owner of COLOR and LifeSpa + Salon in Las Vegas. He has worked with celebrities such as Jennifer Lopez, Rihanna, and Gwen Stefani. He's even worked on the hair for various Playboy models.
Boychuck has his own hair product line and was named the Las Vegas Colorist of the Decade. His courses go over the theories of hair color and styling as well as how to use a wide range of methods and techniques.
His premier hairstyling classes come to online students straight from Boychuck's Las Vegas salon. They go over color applications and techniques as well as an inside look at trending hairstyles. They also look at modern methods such as keratin treatment.
His teachings are totally applicable and approachable for newcomers to the field and they'll transform you into a seasoned pro in no time. He'll go into how to work with the cuticle and avoid damaging hair while also showing you client tips for snagging more customers and building a loyal clientele.
Pros:
Professional instructor

Up-to-date course content
Cons:

The pro hairstyling courses from the Online Makeup Academy are a wonderful option for those looking to start a new career in hair.
Don't let the name of the Academy fool you; this is one of the first online hairdressing courses to offer hands-on application. Students receive a complimentary mannequin head for everyday practice along with a hairdresser's kit full of all the essential tools. They'll also get lifetime access to the online student portal as well as communication with tutors.
The assignments are hands-on and reflect the actual techniques and practices used on the job. Plus, individuals get one-on-one feedback for a more personalized experience. This course preps you for a certificate as a hairstylist with industry insights and know-how on marketing yourself and your skills.
Pros:
Certification

Marketing tools

Comprehensive training kit
Cons:

This online education covers just about everything from initial client consultations to scalp treatments, barbering courses, color, and creative cuts.
It'll also grant students an in-depth overview of head anatomy and hygiene to ensure safe practices in the salon or their own businesses. They'll learn how to apply to jobs after graduating from the course as well as how to obtain a reputation as a professional stylist.
While there is a lot of theory in these classes, they also showcase the different techniques in the hairdressing field today. These include lightening treatments, toners, styling, and workplace safety.
Pros:
Multitude of techniques and styles covered

Color treatment module

Trending haircuts and designs

Long and short hair education
Cons:
Price available upon request

Focus on theory

Aveda is a brand known for its organic hair products and beautiful salons so how about learning from them? Their cosmetology course teaches students how to use the Aveda method and products to cut, color, and style various hair textures and types.
The classes even cover business development approaches so that students feel prepared to work in the field upon completion of the course. Having a cosmetology license from Aveda makes you a much more attractive prospect in the job market too.
This is a multi-faceted approach that takes into consideration the latest techniques and trends as well as real-world experience. Graduates of this hairstylist class are ready to jump into careers as TV stylists, instructors, artistic directors, salon owners, and more.
Pros:
Real-world experience

Aveda prestige

The latest cut and color techniques

Business acumen
Cons:
Makeup and nails also taught

MHD Pro offers students their own mannequin heads for hands-on practice and tutorials on all kinds of textures and hair types. Students will learn how to style anyone's hair and they'll have accompanying PDFs to keep on hand whenever they need them.
MHD Pro provides a comprehensive online library of resources and study materials so students never feel lost in the course content. Upon completion of the course, you will receive a CPD Certificate of Recognition with VTCT (Vocational Training Charitable Trust) and iTEC accreditation.
Pros:
Different gender hairstyles

Long and short cuts

Hands-on practice
Cons:
In this article: