This website may earn money from qualifying product recommendations in this well-researched article.
Did you start cutting your own hair? Perhaps just your bangs? Or are you a budding hairdresser with the need for new shears?
Fear not — for we've gone and scoured for the best haircutting shears. In this list, we'll discuss their features, accessories, pros, and cons to help you make a good decision.
To save you a bit of scrolling — have a look first at theEquinox and John 6.5.
To find the best hair shears, you should give them a try. Buying online, that is not as easy to do — but don't worry.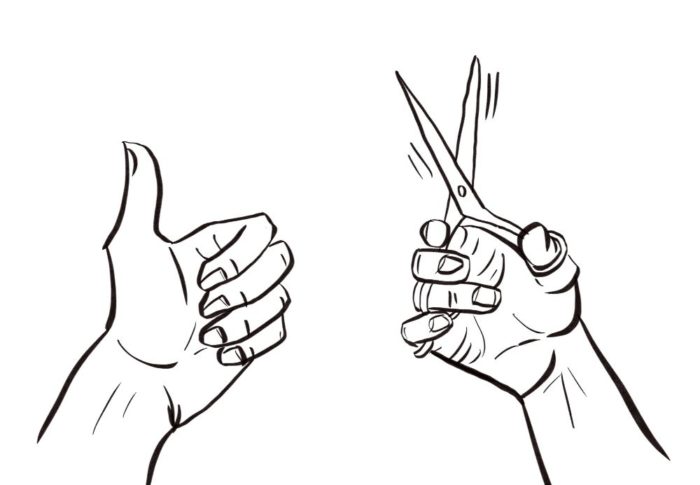 You can return any of the following hair cutting scissors for free. Test them and if they don't fit, send them back.
But there are thousands of hair scissors available. How should you make your pick? Here's our comparison table:
Name
best value
Equinox Professional Hair Scissors - Hair Cutting Scissors...
Professional Barber Hair Cutting Scissors/Shears (6.5...
Shears Direct Ergonomic Left Hand Shear, 5.5 Inch, 1 Count
Suvorna Zircon Z40 Professional 6" Razor Edge 420 Japanese...
Got Glamour Cobalt Molybdenum Right-Handed Hair Cutting...
Image





best value
Name
Equinox Professional Hair Scissors - Hair Cutting Scissors...
Image

Name
Professional Barber Hair Cutting Scissors/Shears (6.5...
Image

Name
Shears Direct Ergonomic Left Hand Shear, 5.5 Inch, 1 Count
Image

Name
Suvorna Zircon Z40 Professional 6" Razor Edge 420 Japanese...
Image

Name
Got Glamour Cobalt Molybdenum Right-Handed Hair Cutting...
Image

Best hair cutting shears (2021)


What we love most are the customers on Amazon.
Have a look here. People are raving.
These inexpensive hair shears have bevel blades. Bevel blades are typically a little less sharp than the convex ones. Don't worry, because they are thoroughly sharpened to be super sharp.
Why is this even important?
Well, if you cut hair with dull scissors, they will fray, split, and damage hair. Not with these.
Other notes on the features:
the crane design supports a good, natural grip,
the scissors' tension Is easily adjustable with a twistable knob,
they are a good middle-ground length making them pretty versatile, and
they are very lightweight (only 4.8 oz).
If you're looking for something cheap and dependable, do consider these.
Do get your hands on these professional shears. We just don't recommend using them in an actual salon. For that, head on over to our list of professional hair scissors.
Bottom line:
The features vs. price ratio of these best home-use scissors is great. It's what made us rank this Equinox as the best hair shears. This pair is a top seller on Amazon. We think this is a worthy choice in the budget price range.
Sale



Cute-looking carved handle is what separates these scissors for hair cutting from the rest. They boast an authentic Japanese stainless steel blade that will keep cutting sharply for a long time.
They are convex shaped, making them a much higher quality than the alternative — hence the slightly higher price. The convex blade will effortlessly cut through wet and dry hair, all without getting stuck.
If you're looking for accessories: these hairdressing scissors come with a handy pouch. These scissors for cutting hair come with a 5 year warranty — so if something happens to them, you're covered.


The best feature of these shears is its very low price. For less than 10 bucks, you could be the owner of a nice pair of hairdressing scissors!
They come in a black as well as metal colored variation. The opinions are quite promising — out of the people that decided to choose these shears, 77% awarded them 5-stars! That's pretty impressive, especially for shears this cheap.
If you think they must be skimping on quality, think again. These shears are super sharp! They'll handle any hair and provide you with a great hair-cutting experience.



Wow! Where do we begin??
These shears feature a lifetime warranty and Japanese stainless steel blades. Okay yes, you will pay a little extra, but it's really worth it. Japanese steel is known for how sharp and durable it is — so if you can get your hands on it, definitely do so!
With these shears also comes a case. The handle on them is ergonomic (the offset variant), so they may even work for a professional barber for an odd trim here and there. Truly one of the best picks on this list.



The manufacturer promises super sharp blades due to their japanese stainless steel blade. They are supposed to be made from a single piece of steel, forged (not cast!) into these scissors.
Pretty impressive, right?
With it, comes a nice leather pouch so your shears will stay protected. They are perfect as a spare pair for the salon or the primary tool to choose for a budding professional barber. According to the manufacturer, these shears can really last a lifetime.

Suvorna Zircon Z40 Professional 6" Razor Edge 420 Japanese...
PRECISE CUTTING: Convex razor edge and hollow ground blades which allow precise...
JAPANESE J2 420 STEEL: These scissors are drop forged from a single piece of the...
RAZOR SHARP: Extremely sharp razor edge blades have a convex edge that eliminate...


These scissors for haircut are made in the US from a special material called cobalt molybdenum that is said to last much longer than the plain old stainless steel. You can get them in several lengths, plus they have a few nice features you typically only get with barber shears — like the adjustable tension screw and removable finger inserts.
They get a thumbs up from us — definitely one of the best shears currently on the market for the price point.

Got Glamour Cobalt Molybdenum Right-Handed Hair Cutting...
6.5" total length, excluding finger rest, 2.75" blade length, for right-handed...
Made in the USA of high quality, cobalt molybdenum that lasts 5x longer than...
For superior quality, these shears are finely honed by hand and only weigh about...
How did we pick these hair scissors?
Let me guess. You're currently thinking:
Why on earth should I trust this internet opinion to pick my scissors?
And that is fair. You shouldn't trust just anyone on a pricey product like hair scissors. But let us explain why you should trust our picks:
We've been writing recommendations for people who trim their own hair and barber shops since 2014.
This is the longest of all websites on hair stuff. We cover hair scissors, clippers, and other hair products.
Over the years, we've learned a lot. We know what people are really looking for in hair cutting shears.
Let me give you an example of what we found. There is a big divide between scissors for home and salon use.
A typical hairdresser makes a living with their scissors. They will happily pay a few hundreds of dollars for a high-quality pair. To recommend a $15.99 pair to them as a worthy product is almost an insult.
Some people come to this website just to find good Japanese-steel hair shears. Overwhelming them with other options? No bueno.
We simply know you — our readers.
Hair Cutting Scissors Types (with Tips on Buying)
Home and professional shears are split into several types. Each type is suitable for different hands and uses.
You'll need to consider:
the size of your scissors,
the type of blade,
the type of handles,
and high-quality material.
It's what we looked at before listing the Top Pick and others below. We looked at what the buyers think: is the pricing really fair? Is the value you're getting worth it?
But first: let's take a look at what you should be mindful of.
What size of hair cutting scissors should I get?
Shears range in length from 4.5″ to 8″. 1
This is quite a range, so how do you know which to get?
The rule of thumb is: your scissors should be as long as your extended palm. This makes a perfect main tool for all home or professional hair styling.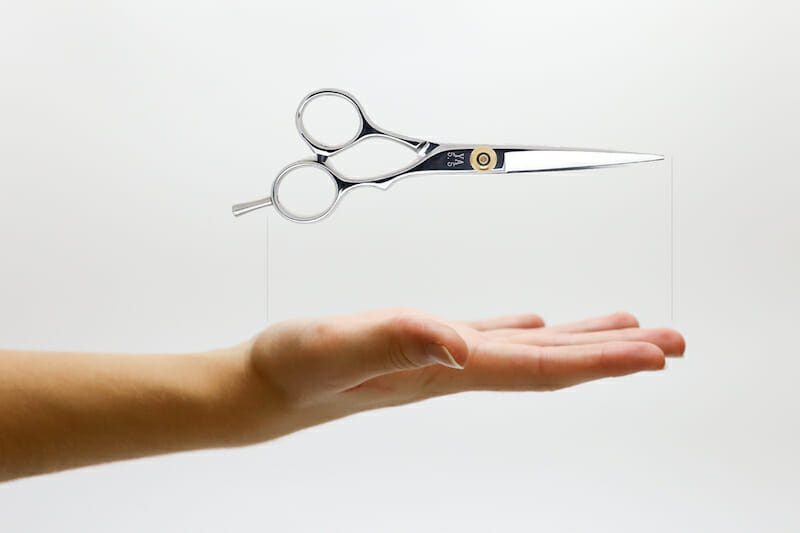 Looking to only cut your own hair at home? The same rule applies.
Anything longer than that is suitable for specialized cutting techniques. These are the "scissor over comb" work, slide cutting, or deep point cutting. Using longer scissors, you will need fewer cuts to finish a line in a trim.
Finger holes and rests are another factor. Using shears that are too big will put more strain on your hand. This can expose you to injury with prolonged use. If the holes fit more snugly, your hand muscles will be able to relax more.
There is a simple rule to follow:
As you hold the scissors, the holes should not go past your knuckle. 2
If it does, and you're happy with your shears otherwise, don't fret!
Order some cheap finger sizers, the small plastic removable finger rings. These get affixed to the insides of the holes to make them narrower.
Many hairdressers use them to get rid of hand cramping. It will allow you to work much more easily.
Hair Cutting Scissors Types
The ergonomic design is going to make a difference, sure …
But you know what else will? The blades.
Japanese steel is the most coveted. The Japanese steel is very strong, and they forge it into razor edge sharpness. 3 Now you can get a piece of this epic tradition in a pair of shears.
Don't get conned!
Some makers of shears will imprint words like "Hitachi Steel" on normal steel blades. They can also imply was made in Japan just to sell their products.
In many cases, these are simple stainless steel scissors. You're being ripped off! 4
Professional barbers pick their shear blades depending on their:
budget,
experience level, and
preferred sharpness.
Yes, there is a huge price difference between the two main blade types: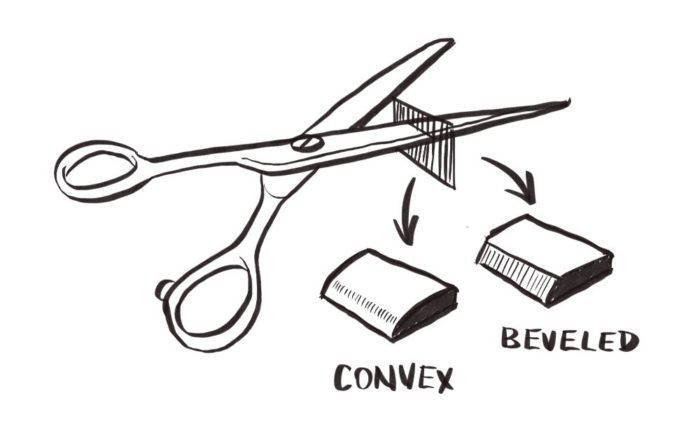 The cheaper one is the beveled edge. It is more durable. However, its serrated cutting edge is not suitable for sliding. These are better for beginners, home trim, and dry cutting.
The convex blade is more expensive. Barber scissors with this type of blade are more sensitive to damage from drops. However, they are sharper and more precise. Cutting with the convex edge requires less effort. It's suitable for advanced cutting hair techniques. 5
What handle is right for you?

We know three basic types of handles: 6
Opposing grip is only suitable for cutting with thumb and middle finger. It's far from ergonomic for those who use the thumb + ring finger combination.
Offset grip was an improvement of the opposing grip design. The ring finger hole is pushed backwards.
Crane grip is another iteration. The fit of the hairdressers' hands is even better.
Out of the three, we recommend the latter one for professional use.
There is also a new thumb design out that you see on the far right:
The swivel.
Swivel scissors is a variation of the crane grip. It allows the thumb to stay put while the blade is free to move around. This allows the stylist to drop the elbow and shoulder. Relaxing these areas helps prevent injuries.
The swivels are great but some hairstylists are unable to get used to it. For those, experts recommend the "bent down thumb" design. 7
Questions from our readers
Can you bring hair cutting scissors on a plane?
Traveling somewhere where you'll need your barber scissor hair cutting set? You'll probably need to pack a good protective leather case.
Why do I say that?
TSA says that hair cutting scissors with blades shorter than 4 inches (ca. 10 cm) can be packed in your carry-on. Anything longer, and it will have to go to a checked bag. 8
That is in the states … what are the regulations like elsewhere?
In Europe, sharp items of any size are not allowed in the carry-on. You may only pack them into the hold baggage. 9 It's similar in Hong Kong 10 and Australia.
What happens if you cut your hair with regular scissors?
You technically can cut your hair with regular paper scissors. But we do not recommend it.
Hair cutting shears are designed for sharpness, precision, and stability. Those are all necessary for styling hair.
And I get it …
Salon hair shears can cost a lot.
I suggest you have a look around for a budget option.
For as little as $10, you can get your hands on a shears set. It may not be very long-lasting, but will give you OK results. Definitely better than your trusty old arts and crafts companion.
What's the difference between scissors and shears?
The main difference between the two is simply: length. Any scissors with the blade longer than 6 inches (15 cm) are technically called shears.
But the usage is relatively lax. Some people call all non-symmetrical scissors shears. Which qualifies most barber scissors as shears because of their offset handles.
In this article, we're using the terms interchangeably.
Texturizing and thinning scissors: what's the difference?
There is a difference between the two, and it's not a subtle one.
Thinning shears are meant for removing excess weight from hair. You can use them to blend away any errors in the haircut. This is why they're a popular tool for cutting long hair at home.
Texturizing shears have wider teeth. This enables them to remove larger bits of hair, creating texture. They add volume to hairstyles by layering.
In short, if you're looking to remove volume, go for thinning. If you want to add volume, get texturizing. 11
Before you go …
Tell us how we did! Did you like our research?
Picking the right picks is difficult. So many options to look at, and different use cases to consider!
Hours of research went into this list. This is why we're confident these are the best picks out there.
Many review websites copy our picks. We must be doing something right!
Join the rest of our readers in the comments and tell us: which are the best shears in your opinion?

Amazon prices were last updated on 2023-09-30 from Amazon Product Advertising API.