This website may earn money from qualifying product recommendations in this well-researched article.
Neck and back problems, arm and shoulder pain, and even carpal tunnel syndrome. These are the symptoms you can suffer just because of one purchase:
Wrong professional hair cutting shears.
As many as 75.6% of stylists are already suffering from chronic back, neck, and shoulder pain. 1
So, many hairdressers suffer from work-related injuries. The situation is quite grim.
But it gets better:
You too can overcome the pains in your hands, shoulders, and back. Just like many people before you.
EASHW has a report for the hairdressing sector that says: 2
Appropriate work practices. For example switching between different tasks and taking breaks, and
a good work environment design. The tools should be easy to reach and ergonomic. This includes hair scissors.
Your new shears need to be — first and foremost — comfortable. Even during prolonged use.
Test them out before you commit. They need to feel natural. Your scissors should follow your hands and not the other way around. They need to feel balanced and weigh just enough for your liking.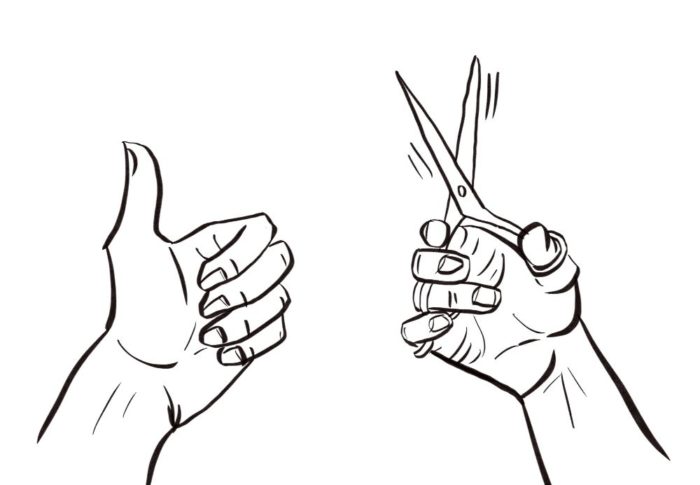 You can return any of the following hair cutting scissors for free. Test them and if they don't fit, send them back.
But that's not enough …
There are thousands of hair scissors available. How should you make your pick?
Don't worry, we've done the research on professional hair cutting shears so you don't have to. You'll soon be able to narrow down the search to your dream shears.
Best professional hair cutting shears
What we love most about it:
Best professional hair cutting shears to fit most needs basically needs to have it all. They need to be affordable and high-quality. They should also offer a good set of features.
The Cricket Roc-it Dog does all that and more. Even the customers are surprised. These scissors tick so many boxes for the relatively low price.
Our favorite feature is the swivel handle. It will save you from overexerting your shoulder. You'll finally be able to cut hair in a relaxed posture.
And just in case you were wondering:
The name "Dog" has got nothing to do with dogs. These shears are for human hair.
Bottom line:
The Roc-it Dog Rs550 is a professional hair cutting shear with the swivel. Get it if you:
are a hair dresser but can't afford out the higher-end scissors, or
are a DIY stylist and want something more.

Injuries are super common with professional hairdressers. Washi know this. This is why they also supply you with finger rings with their super-sharp shears.
The only thing missing with these is the swivel thumb design. If you can live without it, then get these Knockouts.


Need longer-blade shears and the Knockouts aren't cutting it?
The 7-inch Typhoons tick all the same boxes. Because of their length, they are going to be best for experienced hair stylists.
Read more
These are also more expensive. The price comes with the trusted brand of Kamisori. This brand actually won our Top Pick for Japanese hair scissors you'll find below.



Shark Fin is known for their focus on ergonomics and high quality.
These professional hair cutting shears come with the superior crane grip and a swivel. They include a special patented finger-fitting system. This will allow you to get a much better grip on your shears while you work.
Quality wise, they're: 3
forged from 440-A or higher Hitachi Japanese steel,
have convex blades for dependable sharpness,
and the handles are made separately from the steel blades for better alignment.
"Our goal is to produce the highest quality shears at any price!! I personally guarantee it." — Randy Ferman, CEO of Shark Fin Shears
They also offer a lifetime warranty. If all goes well, these are the last pair of shears you'll ever need in your life.
With these professional hair cutting shears, you get a storage case, and some lubricating oil. Plus a polishing cloth. Of course, you're also getting the finger-fitting system. It consists of several sizes of finger-rings for your scissors. These ring can be attached and removed as you please.
These Rainbows have a nice titanium coating. It will be an epic conversation starter for your salon.
Bottom line:
This may not seem significant. But the position of your fingers actually hugely affects your posture. This is where Shark Fin excels, but it doesn't end there. They tick all the boxes: quality, sharpness, warranty, and they're good to your hands.
These Shark Fins are definitely the best professional hair cutting scissors. If they are unavailable on Amazon, you can also order them directly from the company here.

| | |
| --- | --- |
| Brand | Kamisori |
| Length | 5.5″, 5.5″, 6.0″ |
| Blades | Convex |
| Price | Check price |
What we love most about it:
Kamisori is a trusted hair scissors brand. They say they're the most popular of all in the world. 4
They build each handcrafted pair of scissors through a series of 93 steps. This is to ensure the superb quality of each pair.
Kamisori also offers a lifetime warranty. They also have a special 1-year "drop" warranty. 5 They will replace your shears if you damage them by mistake.
The Black Diamonds are one of the best professional barber shears they have to offer. It features a cool black design. And everything you would expect from this level of shears:
a crane handle,
convex blade with an insanely sharp edge,
and a removable finger rest.
They claim these will last 20—25 years, though it depends on the use. With light usage, these will keep their original form for much longer.

Kamisori recommends it for cutting wet or dry hair. The Japanese stainless steel will stand up to any hair cutting challenge.
Bottom line:
This is a good pair for barber hair cutting. High quality costs, yes. But these Kamisoris will definitely deliver on all their promises. They are everything you'd expect and more.


A much cheaper pair of Japanese scissors are these Kashis. They are fine for slide cutting, as well as dry or wet hair. They also come with a lifetime warranty. However, they seem to be not as sharp. This is why we can't recommend them as our Top Pick.

What we love most about it:
Buying left-handed shears is hard, isn't it?
Most of the professional hair cutting shears available cater to the right-handed majority. If you're unlucky, you're only getting slightly adjusted right-hand scissors.
This is why we chose these "true left-handed shears" as our Top Pick. These are completely reversed (including the blades).
This means they follow the natural left-handed cutting motion. You will be able to see what you're doing much better.
Washi is a well-known company that produces high quality professional barber shears. Just like you'd expect, these have stainless steel convex blades. Plus an offset handle for a better fit, and a tension adjuster.
Bottom line:
Great option for lefties. Strongly recommended!


Not too keen on the Cotton Candy (or if you want something higher-grade)? Get the Kamisori Black Diamond we reviewed above.
This professional hair shear is available in a true lefty variation.

4 essential tips for using professional hair cutting shears
Forget about the stuff you learned from your old hairdressing books.
Have you learned in your training that you should sharpen the blades yourself?
That is nonsense, don't even think about it!
In this section, we'll take a look at the common mistakes people make. You'll learn how to properly use shears. Plus you'll learn some tips to keeping them in a top-notch shape.
Ready?
How to properly hold hair cutting scissors
Still suffering from hand cramping, even after all our tips above?
It's time to mix it up.
And by that I mean: switch up the positions of your hand as you work.
There are two main types of hand positions used by barbers. Each is best for certain techniques: 6
Traditional / Western
European / Eastern
If you don't know what we're talking about, don't worry. Here is which is which:

Western grip is more common. It's the natural way to hold professional hair cutting shears. The thumb in the larger hole and the rest of the fingers laying on top.
The Eastern grip is similar, but the scissors are pointed in the other way. This is a good technique for point-cutting on the top, for example.
In both cases be sure to only move the thumb to operate the scissors. Let your hand relax as much as possible.
How to adjust scissors' tension
In the first 2 months of use, you need to check and adjust tension every day.
Does that seem a little much for you?
Failing to do so could cause you to damage the sharp blades!
This is because you'll push them together to get them to cut. You spent a lot of money on hair cutting shears. Now take the time to check and adjust the tension. It will pay off.
It's actually really easy!
First, here's how to quickly test whether you need to adjust:
Position the scissors horizontally, with the thumb hole up. Open the scissors and remove the thumb. Let the handles fall and close the scissors.

Now look at the blades.
Did the blades close half way or entirely? That means there isn't enough friction between them. Your shears' tension needs to be adjusted. 7
This is very easy to do. Most scissors have either an:
adjustable tension screw, or an
adjustable tension knob.
The former can be adjusted with a simple coin. The latter can be simply turned by hand. Turn clockwise to decrease and counter-clockwise to increase tension. 8
How to sharpen hair scissors
Are your scissors getting dull? Want to sharpen them?
Well, here's the thing …
You're actually not supposed to sharpen hair shears yourself. Even sending them off to unofficial sharpeners is not great.
At least if we trust the shear makers.
Do you have lifetime warranty or a different guarantee on your shears? Then we advise you ask the manufacturer to sharpen your hair scissors.
You'll pay from $25—$45 for scissor sharpening.
We found a few sharpening providers that accept mail-ins: Washi, Kamisori, and Stay Sharp. There are more out there. Get a backup pair to use while the primary ones are in sharpening.
How often should you sharpen them?
There is no rule to how often the scissors should be sharpened. It depends on how they're used.
It matters on what kind of hair (wet or dry, thick or thin). It also depends on how well they're looked after. High quality shears will typically need less sharpening.
How to take care of
Some basic maintenance is going to keep your cutting tools in a great shape.
First rule:
Do not use the shears for anything other than hair. This includes wigs, animal hairs, and everything other than clean human hair.
Got it? Good.
Now moving on to cleaning.
Cleaning the shears between cuts is essential. The product and chemicals from the hair will build up on the shears. If you don't clean it, it will gradually affect its performance.
Simply use a soft cloth towel to wipe the shear thoroughly after every cut. Don't forget to disinfect with alcohol.
How should you oil your pair of scissors?
Here's what to do at the end of every day: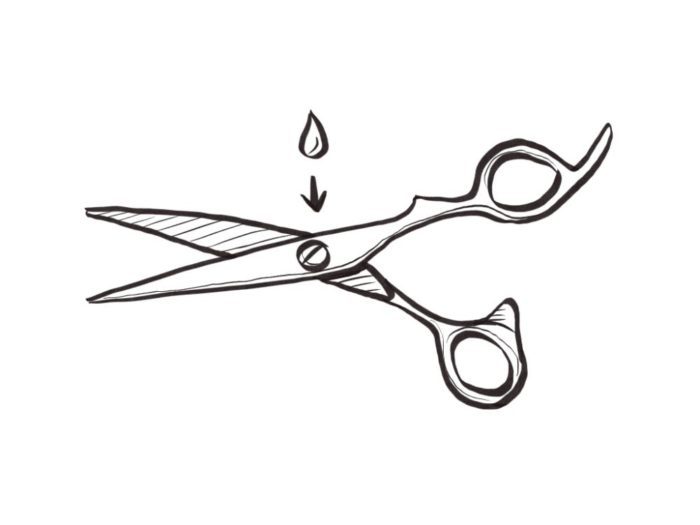 Lubricate the pivot with a few drops of oil. Then open and close the shears a few times to help it distribute.
This will clean the scissors and minimize the wear in the moving part of the shears. Don't worry, the oil will dry before you start work the next day. 9
Of course, properly storing your precious tool while it is not in use is crucial.
Store your clean and dried shears in a safe, dry place. Store them in the closed position. This will ensure that they are as protected from damage as possible.

Amazon prices were last updated on 2021-12-02 from Amazon Product Advertising API.
In this article: