This website may earn money from qualifying product recommendations in this well-researched article.
There comes a time when your hair is thick and large in volume and you just feel like you want thinning scissors for a change! You want to remove the bulk but also have the exterior of your hair layers blended to give a nice finish. Here we are to give you insight into the best of hair thinning scissors. For barbers and hair stylists, hair thinning shears are such a handy tool to have.
These shears are different from others (like regular hair cutting scissors) as the two blades are different. One blade is just like any other normal hair cutting shear while the other has several pieces of teeth (ranging from 7 to 40 teeth) which are good for styling and adding shape to any cut, for wet hair or dry hair.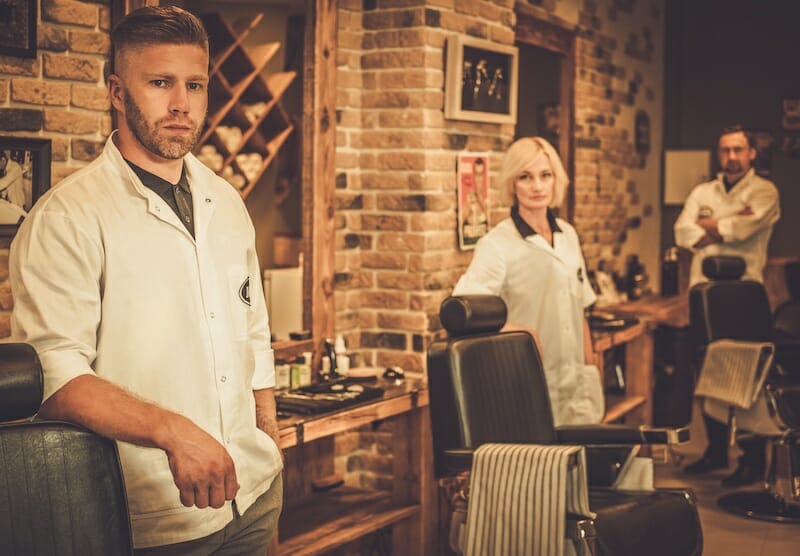 Types of Hair Thinning Scissors
There are many types of thinning scissors. When all of these are properly used, the end product is the attainment of a unique and beautiful style on the head. Many stylists would combine several thinning shears to enhance creativity and innovation. Here are the types of thinning scissors:
The blending and texturizing hair thinning shears
This type of thinning scissors are a great tool to have when compared with the rest in the hair thinning scissors category as they offer an all round performance. With theses thinning scissors, you are able to cut 40-70% of the hair with just one or two cuts. They offer the greatest versatility, texturizing, effectively blending hair and also provide thinning for any type of hair. The average number of teeth is 25 for this type of scissors.
Hair thinning scissors for chunking hair
These are used to remove chunks of hairs especially for bulky / curly hair and create notches. When handling curly and thick hair, go for this type of thinning scissors, they will make your work a lot easier. Their number of teeth range from 7 to 15, they have wider gaps and can remove 40-80% of hair.
Finishing hair thinning scissors
They remove a lesser percentage of hair and will generally have more teeth than the first two. They are by far the best when it comes to blending and giving a nice finish to any work on your head. If used on thick hair, the stylist will have to make more passes at the hair and the cuts may not be very visible, so it is best for thin hair.




These German-made thinning scissors have 46 teeth with fine V-serration. This ensures a nice, precise hair cutting.
We love the huge amount of value you're receiving out of these. That is, if you can get them — they're made in Europe. It's sometimes difficult to get your hands on them if you're from the states.
Click to quickly check whether they are on stock right now.
The Silver Ice 46's have a classic symmetric design. With regular scissors, this would be an ergonomic problem. But since thinning shears get used so much less, we're giving them a pass.
The ball of the scissors have a standard VARIO tension screw. With the use of a coin, you'll easily adjust the tension. Read more about adjusting tension on hair scissors here.
We have a dedicated list for hair thinning scissors. If you don't like these, have a look at our full list by clicking here.
Bottom line:
These are the Top Pick of our separate hair thinning scissors list. They offer great quality which is why we picked them to be here.
However, I am a little concerned about Jaguar's warranty. There is no information about it on the web.
Find out more about the jaguars here >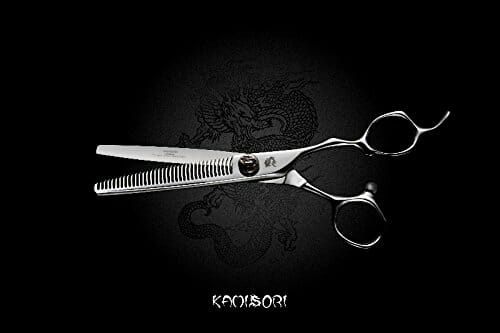 If you're looking for a serious tool for your salon that will literally last you a lifetime, this is it. At the above $500 price point, these are the monster of hair cutting tools, but worth the money for any dedicated hair artist. They feature a beautiful ergonomic offset handle and blades sharp as a samurai sword that will work even with very thick hair.
These are winners of several awards throughout the years. American Salon Pro's Choice (multi-year), Beauty Launchpad Readers Choice (multi-year), Hairdresser Journal Stylists Choice, Canadian Salon Hairdresser Favorite tools, as well as Coiffure de Paris.
They are literally the last pair of scissors you will ever buy as Kamisori offers a lifetime warranty that includes a 1-year drop warranty. Great for advanced texturizing, thinning and blending, super fine teeth will not leave marks or damage hair, even thick or curly hair. Kamisori scissors are all hand made in Japan by senior craftsmen.
Comparison of Best Hair Thinning Scissors
| Product Name | Image | Length | Purpose | Price |
| --- | --- | --- | --- | --- |
| Jaguar Silver Line | | 6.5″ | professional | $$ |
| Utopia Care | | 6.5″ | home | $ |
| | | 6″ | professional | $$$ |
| PERSONNA Toolworx | |  5.75″ | home | $ |
| Tweezerman 2000 | | unknown | home | $ |
| Suvorna Ador | | 6.5″ | semi-professional | $ |
| ZZZRT | | 5.5″ | home | $ |
Selection & Reviews of Top Thinning Shears
This thinning scissors rightly found its way to the top in the thinning category. It is stylish and comfortable with your hands. The materials used to make this scissors are great; the stainless steel used is of high carbon grade. It has sharp blades for the razor edge as well as the teeth.
We are not allowed to display prices on this site as the price constantly changes. Click to see how much these cost today >>
It also has rubber inserts that re removable with finger rests that come in a leather carrying pouch. The tension between the shears cannot be adjusted with your fingers as there is a screw that holds the blades together. You can use the Suvorna Ador for either professional use or for home use, straight or curly hair.
This shears is one of the lightest as it is simply made with stainless steel and plastic handles. These are our uber-budget choice.
These are much cheaper than the rest. See if you can get them as an add-on item.
Tweezerman is a popular brand; this means they have been providing quality over the years they have been in the market. It is credited with longevity, quality stainless steel, and good design for ensuring best results using these hair thinning shears. These shears do not have any adjustable screw nor do they have removable finger rubber inserts.
View what the reviews say about these scissors.
Conclusion
There you are with so many to choose from; we hope that this article will help you in knowing and selecting the best of hair thinning shears. Let us hear from you which are your favorites!
Need some extra hair cutting tools to complete your home kit? Check these practical hair cutting capes.
In this article: