This website may earn money from qualifying product recommendations in this well-researched article.
A 3-way mirror is essential for anyone who wants to improve their haircutting and styling skills at home.
Becoming a pro stylist requires working on your craft wherever you are so having a tri-fold mirror in your house makes a huge difference. Most of us have tried to style or maybe even cut hair with a regular bathroom mirror and the effects can be disastrous. Skip the tears and frustration and invest in the right equipment that will help to propel your career forward.
It's important to note that you shouldn't just choose any old 3-way; that's why we ranked the top professional mirror as well as more economical alternatives.
How we picked the best 3 way mirror
We used a criteria system based on the primary factors that go into creating a top-notch mirror.
First of all, a tri-fold vanity mirror needs to be able to fold and unfold seamlessly for easy storage. Everyone likes the classic feel of a vintage vanity but the design needs to be a modern update on that look.
Furthermore, it's crucial that the mirror be made of quality materials with the ability to accommodate rooms big and small. Ideally, consumers should be able to choose between mounting the mirror on the wall or displaying it on a counter or tabletop. While most people don't think of this, a quality tri-fold mirror will have beveled edges to allow for easy folding without compromising the integrity of the panels, keeping them safe from scratches and damage.
Click here to learn more about hair cutting shears you will need for the perfect DIY haircut.
Finally, hairdressers need the panels to be flexible enough to be angled right where they need them, eliminating blind spots and mistakes.
Using this criteria, we pulled together a few different options for those in the market for a 3-way vanity mirror.


The self-cut system was developed by professionals in the hairstyling and barbering field who wanted to bring the experience of a professional cut to the home. The self-cut system is great because there is a collection of kits to choose from including a starter set, a grooming-specific mirror, and a travel-size pack.
While initially meant to be a men's grooming kit, the company has now evolved to include self cut systems for women who need extra assistance creating the perfect hair and makeup look from the comfort of their own homes. The mirror easily fits to the back of a door, thanks to telescoping brackets and adjustable hooks.
On the downside, the price is a little high.
Pros
:
360-degree visibility

Accompanying mobile app

Portable telescoping brackets
Cons
:
Check out more photos of this popular self cut system >


Measuring 21 inches tall and 31 inches wide, this is one trifold mirror that will look stunning as an at-home hair styling station. Its beveled edges guarantee that the mirrored panels won't succumb to surface scratches or cracks.
The side panels fold completely flat for simple storage and when they're extended, they allow for a closer look from all angles to make grooming a blast. There are no more blind spots and you can trust the craftsmanship and functionality of this mirror. It will easily become the centerpiece of an at-home hairdressing station to make informal practice and paid projects seamless.
Pros
:
Dimensions

Beautiful streamlined look

Craftsmanship, beveled edges
Cons
:
Mounting hardware not included
Check if you can get free shipping with this top home mirror >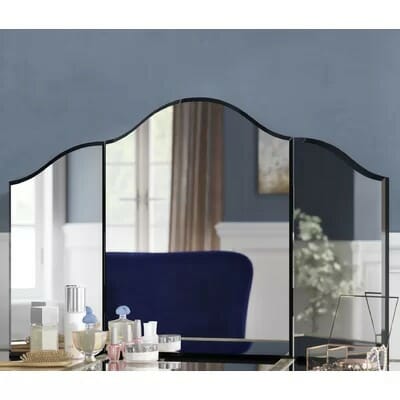 With this trifold mirror, it takes seconds to transform a table at home into your very own haircutting and styling station. The panels reach a maximum height of 21 inches and span a width of 31 inches. The irregular shape adds a contemporary edge without compromising on visibility. The MDF frame has a sturdy outer frame for added durability and support. Each of the three panels has a wood backing for increased sturdiness. The materials are eco-friendly and look gorgeous in any setting.
Pros
:
Contemporary design

Eco-friendly materials

Sturdiness
Cons
:


This vanity mirror offers ample space to see all angles of your or your client's hair and the height of the mirror stands at a solid 40 inches tall.
Beveled edges protect the panels from any chips or surface scratches as well as further damage. A solid core made of wood keeps the mirror sturdy and adds extra reinforcement from warping. This is a beautiful 3 way mirror that combines safety and practicality, making it perfect to also cut other hairs (like the ones below the belt).
Hardware is included for quick and easy setup whether you want it mounted to a wall or door or you prefer it to sit on your table. This 3 way mirror prides itself on premium materials that pass an eight-point inspection for quality, durability, strength, and safety.
Pros
:
40 inches tall

Polished safety edges

Premium materials
Cons
:
Click to read more about what the reviews had to say about this 3-way vanity mirror >

For those who need something inexpensive that they can bring along with them, this Venita 3 way mirror is perfect. It will be the ultimate companion for doing makeup, fixing hair, and styling others. It sits comfortably on a counter or tabletop and includes LED lights that will last a lifetime. The detachable design and swivel feature make this a personalized option for those who are constantly on the run but don't want to leave their profession behind! The price can't be beat, although this mirror is markedly less durable than its competitors.
Pros
:
Affordability

LED lighting
Cons
:
Tabletop type of 3 way mirror
There you have it! These are five at-home 3 way mirror options that you can use to take your hairstyling career and practice to the next level.