This website may earn money from qualifying product recommendations in this well-researched article.
not sure?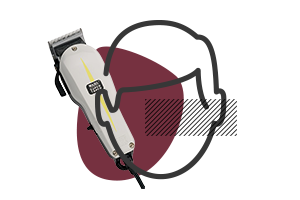 Are you noticing your hair receding?
Can you guess how many men under 21 years old face this problem?
I'll tell you the answer after this:

This website may earn money from qualifying product recommendations in this well-researched article.[explanation]
Now back to our little quiz …
If you guessed 25%, you're right!
Seriously??
Yes: A quarter of all men with male pattern baldness will start to notice their hair thinning before they even reach 21.[ref]https://www.webmd.com/skin-problems-and-treatments/hair-loss/hair-loss-introduction-mens[/ref] They — just like you — probably all wish they could just stop worrying about it.
But there is a secret. Something many of them have discovered to regaining confidence and youthful look:
Simply shaving off all the remaining hair.
Who am I talking about? Let's see … Vin Diesel, Samuel L. Jackson, Bruce Willis, Patrick Steward, The Rock, in short: all serious badasses!!
Want to be a badass? Read on …
Don't get ripped off: choosing your new balding hair clippers
What would you do if this happened:
You order a shaver online, wait for it to arrive, and then realize … that it doesn't cut close enough.
Keep in mind, a close cut is the key to hiding hair loss. A buzz cut, albeit a good option, will not disguise the horseshoe pattern on your head. You'll need the right clippers that will actually get the job done.
This is the first thing to keep in mind:
1. Do NOT get the Remington HC4250

Don't fall for it …
On some other websites, you'll find they recommend the Remington HC4250. This is a truly awesome clipper that makes maintaining a buzzcut a breeze. We even recommend the Remington HC4250 elsewhere. But it is NOT A BALDING CLIPPER.
Here's why they are wrong:
Our research shows that the Remington HC4250 only cuts to 0.5 mm. This is not enough to keep your head perfectly bald. This is why I do not recommend it here.
For example, our Top Pick shaves at less than 0.1 mm. Go for the easy shave without compromises.
2. Kickass power and sharpness
How do clippers work?
A hair clipper is made of two blades. The motor moves one of the blades back and forth while the other blade stays put. The hair gets caught in between the teeth, and then cut off.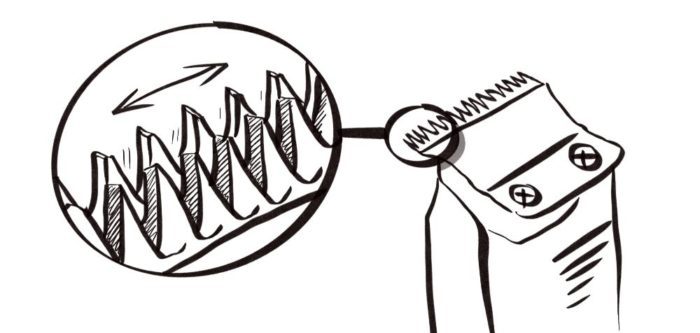 Most balding clippers have stainless steel blades. They are typically self-sharpening. You won't need to worry about them getting dull any time soon. But if they ever do, here's a selection of close-cutting blades. You can easily replace them and keep on cutting.
What about the motor? That matters a lot for the pricing of the device.
The motor inside can be either:[ref]https://andisweb9074.blob.core.windows.net/web-iisproduction/images_and_docs/media-center/Clipper-Motor-Comparison-Chart-2014.pdf[/ref]
an electromagnetic motor (consumer products) — cheapest,
a pivot motor (stylists' clippers), or
a rotary motor (heavy-duty, industrial) — most expensive.
You should go with the first one or the pivot motor clippers. Unless you're a pro — then you'll want the rotary motor. You'll find all this information in our individual reviews. Scroll down to read more!
3. Comparing the cost vs. quality
Does $100 sound a lot for a clipper to you?
Now compare it to:
the annual cost of going to a barbershop,
using hair care and styling products, or
buying expensive hair loss treatments.
Is it still a lot? Not really, right?
Picking the clipper that is high quality will really pay off, and quickly. I suggest you go with one of the top suggestions from our list. And please double-check the warranty.
Why you should trust us: how we picked the best balding clippers
Okay, so there are many opinions on balding clippers out there. Your grandma probably also has one.
Why should you trust us?
First of all, we've been writing reviews and how-to guides for people who cut their own hair and professional barbers since 2014.
This is the longest of all websites that recommend balding clippers.
Over the years, we've learned a lot. Especially about what people are really looking for in balding clippers.
For example, we know that people looking for balding clippers above all, value a very close shave. Other features depend on the use.
Barbers are mainly looking for reliability and durability. Price is not as important to them. They will make money using these clippers anyway.
We simply know you — our readers.
Secondly, we base all recommendations in data. You'll notice we source all our claims with links in the footnotes … But that is not all.
We've partnered with a third-party service. This let us analyse the online reviews of thousands of real customers. It's how we find out what are the pros and cons of each product.

Look underneath each of our balding clipper picks. You'll see exactly how often people praise or complain about the features of each one. One note though: this feature is only available on popular products. This is because we're limited by the number of customer reviews.
This is going to help you make an informed decision on your balding clippers. Good luck!
Best balding clippers (Reviews)
The best balding clipper
Criteria: closest shave, durability
[lasthalf]
| | |
| --- | --- |
| Brand | Wahl |
| Weight | 9.6 oz / 272 g |
| Power | Corded |
| Blades | 6×0 stainless steel |
| Price | Check price |
[/lasthalf]
What we love most about it:
This is not the first time we're recommending this clipper.
We love this clipper for three main reasons:
because of the 6×0 blades, it provides a super close shave,
Wahl is a reputable and trusted company, and
the price is fantastic considering it's a professional grade clipper.
You'll be able to zero-overlap the blades on these clippers. That makes them cut very close to the scalp.
Be careful though! You can nick yourself with zero-gap clippers.
Wahl promises a powerful motor that cuts twice the speed of pivot motors. This, on top of all the other benefits, makes this beast of a hair trimmer an even better deal.
Of course, you're not only getting the Wahl balding clippers. In the box, you'll also receive:
2 clipper attachment combs,
items to help you maintain the clippers (oil and brush), and
a blade guard to help you protect the self-sharpening blades when not in use.
The most expensive these balding clippers have ever been was just below $60.[ref]https://camelcamelcamel.com/Wahl-Professional-Balding-Clipper-8110/product/B000VVT94G[/ref] If today's price is lower, then hurry up because you're getting a deal.
This is the corded version. We're also recommending the cordless balding variation a few scrolls down.
Pros and cons:
[explanation] We've analysed reviews online to discover what people actually think about Wahl Professional 5-Star. This analysis was run in August 2019.
| | |
| --- | --- |
| Shave quality | |
| Ease of use | |
| Loudness | |
Read the reviews for yourself here.
Bottom line:
Wahl Professional 5-Star balding clipper is an amazing option. They are the best for anyone looking for an easy close shave.
You can't go wrong with this balding clipper. It is simply the crowd's favorite.
The T-Outliner trimmer is a similarly-priced alternative to consider. Its t-blade is well-known among barbers and can also be zero-gapped. Some people use it as a beard trimmer, but it's a professional tool.
Using it for a long time can cause it to get very warm though. This is why T-Outliner trimmer is not our Top pick.
Buy online
Best balding clippers for black hair
Criteria: close shave, durability, power
| | |
| --- | --- |
| Brand | Wahl |
| Weight | 1.8 lbs / 816 g |
| Power | Corded |
| Blades | zero overlap stainless steel |
| Price | Check price |
What we love most about it:
Unsure about the Wahl 5-Star? Then we have another suggestion: the Close Cut Pro.
It came out only a few years ago. It packs what Wahl learned from its earlier models into this modern design.
As one reviewer put it: "This unit works and feels like my old one, except that it doesn't nick like the old one, but still cuts super close." 1
Like the one above, this clipper comes with the carbon steel blades pre-zero-gapped. The blades are self-sharpening and are promised to "cut through all types of hair".
Don't worry about power either!
This tool is packed with a heavy duty electromagnetic motor. It runs at 7200 blade strokes per minute. This ensures a no-snag hair cutting experience.
This clipper is packed into a sturdy hard storage box. It comes with a few standard mini-tools like combs and cleaning equipment (a cleaning brush).
Pros and cons:

This analysis on Wahl Close Cut Pro reviews was run in August 2019. This is not a heavily reviewed product. This is why we can't currently provide more data. Click here to read the reviews.
Bottom line:
This is the best clipper for black men's hair. It's equally suitable for anyone who values a skin-close shave, a modern design, attachment combs, easy cutting, and a fair price.
Buy online
Best cordless balding clippers
Criteria: close shave, battery life, lightweight
| | |
| --- | --- |
| Brand | Ritter |
| Weight | 3.84 oz / 108 g |
| Power | Cordless |
| Blades | non-removable |
| Price | Check price |
What we love most about it:
Above all, we love the freedom from the power cord. This little balding buddy has a run time of 65 minutes without stopping. This makes it the perfect companion on a short vacation or a business trip.
In fact, it is made with traveling in mind. With it, you'll also receive an EU/US adaptor. But that is not all.
There are two more benefits of this tool:
the dimensions, and
the versatility.
The size and weight of this clipper are fantastic. It will fit right into the palm of your hand. It'll even fit into a pocket.
This balding clipper is also usable as a beard trimmer. Using the supplied guide combs, you'll be able to easily touch up your beard on the go or at home.
Bottom line:
Make no mistake: this clipper is expensive. The blades are non-replaceable, and that is a big minus. All things considered, this is still a very good option. Even more so for the frequent traveller. If you can afford it, then do order these for easy hair cutting experience.
Buy online

If you're able to get it, this clipper is a nice close-cut clipper with a rechargeable battery. It's also similarly priced to the product we reviewed above.
The main issue is that this Norelco is rarely on stock. People love it though and it gives an easy and nice close shave. Definitely a good option if you can get it.
Want another option for a cordless balding hair clipper? Have a look at our "Best Wahl Clipper" pick.

Best balding clippers for home use
Criteria: close shave, price, ease of use
| | |
| --- | --- |
| Brand | Wahl |
| Weight | 4 oz / 113 g |
| Power | Corded |
| Blades | #2068-1001, steel |
| Price | Check price |
What we love most about it:
Don't let the cute name sway you the other way!
This balding hair clipper is actually a professional tool. It's meant for hair cutting barbers that move a lot. An example are travelling hairdressers, or when they go to conferences.
Its small ergonomic size will help you (or your significant other) maintain your bald head in an effortless way. At the same time, it gets as close to the scalp as possible.
Think we're lying? That this small thing couldn't possibly come close enough for head shaving?
Have a look through the customers' photos here. You'll see that they are consistently getting nice head shaves or bald fades.
With these balding clippers, you're also getting a set of clipper combs. This will help you create different hairstyles. It comes with a 7-foot cord for easy use.
Pros and cons:

We've analysed reviews online to discover what people actually think about Wahl Peanut. This analysis was run in August 2019.
| | |
| --- | --- |
| Shave quality | |
| Reliability | |
| Cable usability | |
Bottom line:
Dependable, powerful motor, and lightweight clipper for the home use. That is the Peanut.
And if you find it still doesn't cut close enough (unlikely), you can always swap out the blades for the 6×0 for a truly balding experience.
Buy online
Best Wahl balding clipper
Criteria: close shave, wahl, features
| | |
| --- | --- |
| Brand | Wahl |
| Weight | 10 oz / 284 g |
| Power | Cordless |
| Blades | 6×0 stainless steel |
| Price | Check price |
What we love most about it:
No, this is not a deja-vu! You've seen this clipper before.
This is a cordless variation of the 5-Star balding clipper we ranked as best above. Why didn't we rank it number 1?
It's just slightly less powerful than the corded version. And that is normal: battery-powered balding clippers always lag behind a little.
How should you decide between these and the corded version?
Well, if you want:
the convenience of being cord-free,
but keep the precision and the close cut of the 5-Star …
Then get the Magic Clip!
They are among the best hair clippers available right now. And the price is nowhere close to the expensive tools like the hair cutting monster Oster Classic 76.
This clipper has so many cool features we just have to list the best ones here:
taper lever on the side,
fitted with the standard balding 6×0 blade (zero-gapped),
can run for 90 minutes on a single charge, and
comes with attachment combs and tools for maintenance.
You can use this clipper corded as well, if you run out of battery. This makes it one of the best choices for professional barbering. Using the supplied bonus attachments, you'll also be able to use these for different hairstyles. You can also experiment with designing sideburns, neck tapering, fades, and all around your head.
Pros and cons:

We've analysed reviews online to discover what people actually think about Wahl clipper Professional 5-Star Magic Clip. This analysis was run in August 2019.
| | |
| --- | --- |
| Battery life | |
| Shave quality | |
| Sound volume | |
Bottom line:
This clipper just came out a few years ago and people simply love it. Like to be free from cables but don't want to sacrifice power and precision? This is your best bet.
Buy online
Okay, so this is not really a Wahl balding clipper. It's an electric shaver, namely a foil shaver for professional use that can make your head completely clean of hair. It's what barbers use to turn stubbles into a very fine bald shave. All without a razor.
Since it's a Wahl clipper we felt this foil shaver made the cut on this list as an honorary mention.
Buy online

The most common clipper maintenance mistakes
Do you want to be using your new head shaver for a long time to come?
Then you will need to maintain it properly.
Don't make the mistake that so many people make: cut hair, then put the clippers away without cleaning, or even worse! They lather it in oil thinking that's all it needs.
Nope!
Whatever clipper you go with, it will need some basic maintenance. Cleaning the blades will go a long way to keeping your clippers working smoothly.
Don't worry — the process doesn't take long.
Using the cleaning brush and oil to clean the device
Have you noticed any of the following:
the battery goes flat quickly,
the motor lacks power,
the blade doesn't seem to be as sharp any more, or
the clippers get really hot?
Wahl says that in 9 out of 10 cases, these issues are only due to lack of maintenance. 2
At least every 2—3 cuts, the clippers and the blades need to be thoroughly brushed. If possible, remove the blades or use the taper lever to spread them apart. Then remove the hairs from the blades with the supplied cleaning brush. You can even use a disinfectant spray to go a step further.
When you're done, add 3 drops of clipper oil to the blade and then reassemble. Switch the clippers on and keep them running for a few seconds. Wipe off any excess oil to protect the motor.
And voila!
Oiling your clippers is essential for optimal contact between the blades. It will also keep the hairs off the blade set. Take the time to do it! Your clippers will continue to work perfectly for years to come.

One more thing do to to keep rechargeable clippers running for longer:
This simple hack will keep your lithium-ion battery working 5 times longer
Non-removable batteries are a nightmare. Once you're out of juice, all you can do is ditch your old clippers and get a new pair. Or, pay for expensive professional replacement (if it is even possible).
So, how can you make your battery life last 5 times longer?
There is one small trick …
(Just for the record, I did not come up with this tip myself. I learned it from this video.)
Two ways you can keep your shaver running longer:
Plug your clipper back into charging as soon as it gets to 70%.
The other tip is: keep the clipper cool. By that I don't mean just cooling and disinfecting the blades with alcohol (which you should do anyway). Keep the whole apparat in a cool place, away from sunlight, hairdryer, radiators, etc.
Balding hack: How (and why) to zero-gap your clippers
Zero gapping is a practice of aligning the clipper blades. Properly zero-gapped teeth are flush together. The main benefit of doing that? The ability to cut much crisper fades and lines and to cut a lot closer to the skin.
However, zero gapping can also be dangerous!
If you don't know what you're doing, you could cut or nick your skin. You can even cause serious injury! It's not recommended for people who just started cutting their own hair. This is due to a much lower level of precision.
Don't say we didn't warn you!
This video shows the technique of how to do it on your clippers.
How to shave your head with clippers
Imagine … a perfectly smooth head you can not stop touching.
Everyone who sees you says you look more confident. Your friends become jealous and start to think about shaving their hair as well.
All this just by shaving your head clean!
Click here for our in-depth, illustrated guide to cutting your own hair. It will give you a few tips on shaving your head, using clippers, and cleaning up. Additionally, you can use a foil shaver or a blade to really get it squeaky clean.

How often should you shave your head?
Most people do it once every 2—3 days, some even every day. Hair grows pretty quickly. Any less than that and it will start to look like a buzzcut. It's ultimately up to you and what you want.
Benefits of shaving your head
People lose their hair unwillingly due to a ton of reasons that are out of their hands. Genetics, pattern baldness, skin conditions, or cancer treatment.
Losing hair can be really tough on the people experiencing it. They may stop engaging in things they once loved to do. They may even feel like their life is over. 3 That's why so much money is being spent on expensive hair loss treatment.
Simply shaving it all off is an excellent way to end this once and for all.
Think about it:
You can either tell yourself that:
you're not really losing your hair, or
that it will grow back, or
that you just need to find the right cream to make it grow faster …
Or you can face the situation as it is.
There is nothing wrong with hair loss, or with bald heads — unless you're a neonazi of course. In which case go think about your life choices at least until your hair grows back.
Some people report the feeling of "rebirth". A feeling of starting over when they shave their head. 4 It may also be a way for you to leave the past in the past and start anew.
Bald look is beautiful, looks badass, and represents a new beginning. Do you really need more reasons to pull the trigger?
You can also read our article Should you shave your head?
Little-known tips on getting the closest shave
Of course, the closest head shave will only be possible with a razor blade.
But you and I both know the downside of those …
The ingrown hairs, nicks, cuts, irritated skin, and razor bumps. For some, this is simply not acceptable. Since clippers can get you 98% there without these problems, we're sticking with them.
When buzzing your hair off keep in mind the following expert tips:
If your hair is longer than an inch, do one pass over it with the attachment comb on. This is to shorten the hair, detailing comes in later.
Be sure to use the right close-cut blades. Blades come in different sizes. For balding, you should be using an #000000 (Oster) or 6×0 (Wahl) or similar.
You can modify your clippers to be zero-gapped. This will ensure the closest possible trim. But can also be dangerous if you don't know what you're doing! Read more about zero-gapping here.
Keeping in mind the tips above, you'll be able to consistently shave your head to your skin without problems.
But the problems come anyway …
And here are ways to take care of your bald noggin:
Bald head care: stuff you need to know
The number one issue that bald men have is sun burns.
Your entire life, the sun never shone on your scalp. It's only logical it will burn when it does.

Be sure to wear sunscreen, stay out of the sun 11AM—3PM, and wear hats and sunglasses. People with darker skin don't need to be quite as careful. 5 But they should still take precautions. Burnt scalp hurts!
Found yourself sunburnt despite our advice? Apply aloe vera or yogurt to the skin to soothe the pain.
Of course, if you don't have hair, then you don't need shampoo. You can simply clean your head with a wash gel that works for your skin. Then use a moisturizer if your scalp gets dry or irritated. They also sell scalp conditioners and exfoliators.
Common Questions
What would i look like with a shaved head? Find out instantly!
Are you wondering what would you look like completely bald?
Want to test drive head shaving before you take the plunge? Makes sense.
In this age of technology, it's no big deal to get any amount of real-time filters like cat ears. It's apparently impossible to find an app that makes you bald.

After digging around, we finally found the app Bald Head Photo Booth. It is free and gives you an opportunity to see what you would look like without hair.
Please comment below if you find another option!
When to shave your head if going bald?
Only recently started to notice your hair receding? It's okay to wait a little. You noticing doesn't equal everyone else also noticing it!
On the other hand:
The longer your hair is, the more obvious the bald spots become. It's the same with hair product — the more you use, the more obvious it will be. 6 So don't wait too long.
Not completely sure you want to go all in?
I can understand that.
You can try taking the middle road. First shorten your hair into a crew cut or a buzzcut and see how that makes you feel.
Can you go bald if you shave your head?
No. Shaving hair, if done with balding clippers or a shaver, leaves hair follicles intact.
This means that hair can continue to grow. Well, if it was growing in the first place.
On the opposite side, shaving your head also won't make your hair grow stronger or faster. Hair can be damaged from dyeing, for example. Shaving it off will simply give your hair a chance to grow new, healthy hair.
Why do Buddhist monks shave their heads?

This question is really just a fun way to end this article.
Monks probably aren't shaving their hair because of spot balding. So why do they do it?
There are several theories:
As a spiritual gesture of giving up on vanity. 7
It's more practical. The main task of a monk is to focus on meditation. So, styling their hair is not exactly a top priority. It's also against Buddha's teachings.
It's possible that the monasteries at some point simply faced a lice break out. Shaving heads was probably the only effective way to get rid of the bugs.
What is your guess? (hint: it's super hot in some Asian countries that practice Buddhism …)
Before you go … Leave a comment!
Thanks for reading!
What did you think about our selection? Do you have a favorite balding clipper of your own? What is your reason for going full-bald?
If you liked it, then please share this article with your balding buddies. It helps us keep creating these long and comprehensive guides!