This website may earn money from qualifying product recommendations in this well-researched article.
From washing to combing, we bring you the best products to give your thin hair a voluminous and firm look.
If you too have thin hair, you know the drama. Your hair becomes greasy faster and you have to wash it more times. Styling is harder and after a while your hair has lost all of its volume. You may find yourself wondering if people can see too much of your scalp. And when you hairs pilling up on your brush or your shower drain it can be really scary.
Your hair may be naturally thin or become thinner due to stress, seasonal effects, or medical conditions. Either way, you will want to have a routine that prevents your hair from becoming thinner while giving it a fuller appearance.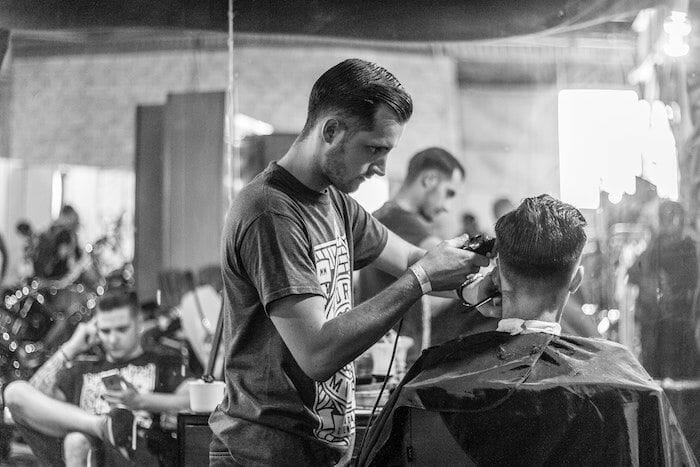 Giving a fuller appearance to thin hair begins with choosing the right shampoo and conditioner.  When styling your thin hair, you will want to use products that give you firmness, body and fullness to the hair that will give a thickening effect.
You have probably noticed that grease travels faster to the tips of thin hairs. This will weight down on and make it less voluminous. More, grease, air particles, and dandruff accumulates in your scalp and can cause hair to go thinner. Thoroughly cleaning your hair with the right shampoo will give you a good base to create a fuller style.
Again, when it comes to styling, you will want to avoid products that weight down on your hair or lump it together. This means, for example, using wax or clay instead of gels. Keeping this tips in mind, dive into our list of the best mens hair products for thin hair:
The best products for men with thin hair


Products labelled "volumizing" may seem too good to be true. But reviewers swear for Mokita Naturals Volumizing Shampoo's results, saying that it made their hair cleaner-than-ever and more voluminous.
Containing Biotin, ProVitamin B5 and B7, and seven biological extracts, Mokita Naturals Volumizing Shampoo promises to deep clean and nourish every type of hair. Free of sulfates, parabens, and alcohol and with a balanced pH, it makes scalp irritation less likely. 
Mokita's range includes a conditioner to pair with your volumizing shampoo. Check out both:
Sale



While shampoos like Mokita Naturals Volumizing Shampoo will work well when your scalp is healthy, some situations may require special attention. Nizoral A-D Anti-Dandruff Shampoo is widely recommended to those with excessive dandruff or seborrheic dermatitis as its active ingredient, ketoconazole, attacks their fungal origin directly. 
Because dandruff and seborrheic dermatitis can block your follicles, many reviewers report that they have noticed their hair getting thicker after starting to wash with Nizoral A-D Anti-Dandruff Shampoo. 
It may not be for everyone but if you struggle with dandruff or seborrheic dermatitis check it out:


Once you get out of the shower, it is time to start building up volume by drying and brushing your hair. BaBylissPRO's Ceramix Xtreme Dryer has six heat settings and speeds so you can adjust the air blow to your preference. This means you can have a strong air flow that will separate your hairs, while choosing a medium temperature that will not fry them.  
Plus, this mens hair products for thin hair has a cold shot button that you can use to lock your hair in place once you got to your desire style. Dry your hair with your head facing the ground and brush generously, starting from the roots upwards to achieve the best result.
Check this products overwhelmingly positive reviews here.


When it comes to styling, you should really avoid gels. This is because they create lumps, making the hair appear even more thinner. A styling wax such as TIGI's Bed Head will give you the support you need without the lumping effect. Only a small amount is enough to last for a day, giving your hair a smooth scent as an extra.
If you use other mens hair products for thin hair such a thickening spray or powder you really should consider starting with a wax or clay. Otherwise, the spray or powder will weight down on your hair, giving it less volume. 
Sale



Products with a matte finish are really great news for people with thin hair and you should definitely check out American Crew Boost Powder With Matte Finish.
Boost powder may not be a conventional solution but being drier, it will no create lumps on your hair. Sprinkle it evenly across your scalp after drying and brushing and then work it with your fingers. Use it as either an alternative or a compliment to thickening spray.
Sale

American Crew Men's Hair Boost Powder, Provides Lift &...
HAIR POWDER FOR MEN: American Crew Boost Powder is an anti-gravity volume powder...
HAIR STYLE: This weightless powder adds grit for dramatic, gravity-defying...
INGREDIENTS: Our formula contains Propylene Glycol, which retains natural...


Thickening sprays work by coating your hair with binding particles, increasing their volume. Apply BOLDIFY Hair Thickening Spray to your roots and in 20 seconds your hair will becomes fuller.
While the standard procedure is to apply it in damp hair, some fellow thinned hair reviewers advise you to build your own routine, as they see better results when applied after drying and combing. The key is to combine BOLDIFY Hair Thickening Spray with your preference wax or boost powder to obtain the best result.
See how reviewers are combining this with other products!
Sale

Boldify Hair Thickening Spray - Stylist Recommended...
Thicker, more voluminous hair in 60 seconds, Unique non-sticky formula - Our...
Best For: Medium to Oily hair of all lengths and colors. Finish Appearance:...
Made responsibly in the USA, results guaranteed - Boldify hair styling products...
With the right products and routine, your thin hair will have much more volume!
Now that you have checked our suggestions, be sure to try out what works best for you and share the results with us!

Amazon prices were last updated on 2023-09-30 from Amazon Product Advertising API.