This website may earn money from qualifying product recommendations in this well-researched article.
Body grooming can sometimes be a nuisance but it is necessary in order to maintain attractive and arousing appearance. You have landed on the right page if you were looking for the machine for you. To make your search easier, we have gathered the best body groomer available in the market.
Best Body Groomer Today (Body Hair Trimmers)
You may find other trimmers available in the market but these products below are certainly the ones that you are looking for.
Btw, if you're in need of a pubic hair trimmer read this post.

If you were using different trimmers for hair on different parts of your body, this best body groomer can make the task easier for you.  Philips Norelco Body Groom Series 7100 can be your ultimate trimmer as it works smoothly and effectively in all parts of the body. It also has dual-sided design so you can shave and trim using only one product. It comes with 3D pivoting head which follows your natural contours to prevent possible cuts or injuries.
Click here to see if you can get free shipping with these.
This product allows you to choose from five length settings up to 11/25 inch so you can achieve the look that you desire. Its materials and casing are water-resistant so you can use it even when showering.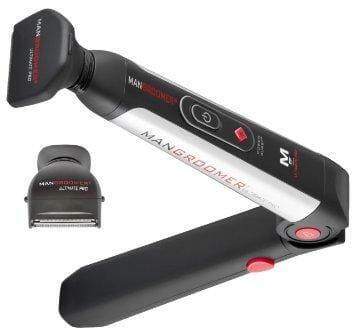 This best body groomer has a unique patented design that allows you to reach all parts of your body easily especially your back. It comes with two interchangeable attachment shaving heads that can shave longer hairs in big areas fast. It also has foil body groomer bi-directional head for shorter hairs and smooth shaving. Its multi-functional flex necks absorb shock and follow the contours at an angle which results to better and comfortable shaving experience.
The Mangroomer Ultimate Pro Back Shaver also has Power Hinge Easy Push Lock Button that lets you lock the product at your desired angle. It also includes high technology quick charge battery for easy and fast charging experience. A light indicator also lets you know when the shaver is fully charged.
We're not allowed to list the price on this site, but you can click here to check it yourself.

Remington is one of the most popular brands when it comes to best body groomer. The PG525 includes all your grooming needs in one package. It has surgical and self-sharpening blades that are sharp and long-lasting. All products are washable as well as the vertical body hair trimming attachment which lets you shave and trim in details.
The package also includes body hair trimmer attachment, nose, ear and detail trimmer attachment, foils shaver attachment, 3 beard, and stubble combs and 8 length hair clipper bomb. It also comes with long lasting battery and stands for convenient charging and storage for all grooming products.
The light indicator lets you know whether the battery runs low and when fully charged. The attachments are also washable.
Click here to view more close-up pictures of these inexpensive clippers.

One of the powerful names in the industry of best body groomer is Gillette. Braun Cruzer 6 has a powerful combination of Gillette fusion and body trimmer for quick and convenient results. You can also choose different lengths from sensitive, medium to long. This product is also waterproof so you can shave or trim even under the shower.
You can read more about this product (including how long the battery works and some other exciting features) here.
This product features smaller trimming teeth that minimizes cuts and comes with a sensitive comb for additional safety especially when trimming delicate parts. It also includes five aligned Gillette blades for smoother shaving. Using Braun Cruzer 6 allows you to trim and shave in only one stroke so you can complete this task right away and go without too much hassle.

This product is from Panasonic so you are rest assured that it provides good quality and excellent result. This best body groomer includes adjustable dial with 19 0.5 mm settings so there is no need for different comb attachments. With 19 settings from 1 to 10 mm, you can easily trim your hair according to your preferences.
This trimmer is cordless and rechargeable so you can use it anytime and anywhere. It has a red light indicator that lets you know when the battery is running low. This product is washable and has a water hole that allows water to flow freely which makes it very easy and fast to clean.
Click here to read about the one thing customers complained about.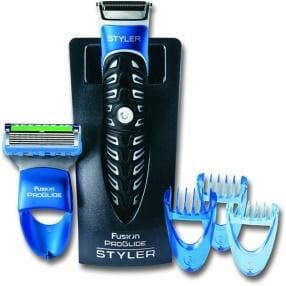 This device is operated by a battery and can be used for many purposes. This shaver is also equipped with Fusion ProGlide Power for fast and safe shaving. It is also washable so you can use it dry or under the shower without the risk of being electrocuted. Always helpful in products like this!
This product comes with interchangeable combs for different hair lengths. The cartridge can also be turned around to use Precision Edging Blade for shaving parts like under the nose and sideburns.
Click to see why this item is consistently getting 4-star reviews >
That's it for our selection of body groomers. If you're also looking for facial clippers, take a look at our dedicated guide here and let us know if you agree with our picks!