Features
The Andis FadeMaster Clipper is a great, dependable and silent clipper for cutting and hair designing. This sturdy magnetic motor clipper gives you an expert grooming solution. Some of its key features include: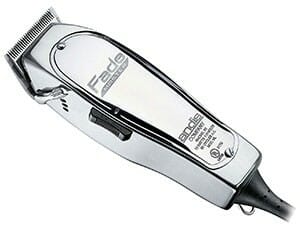 Magnetic Motors
It provides consistent power and has a very high blade speed.
Magnetic motors tend to operate at very high speeds, ensuring smooth cuts.
Light types of hair will go through and cut well with the clipper from the magnetic motor.
It has less movable parts which makes it simpler to cut hair with endurable magnetic motors.
It is indestructible and has a lightweight aluminum casing for years of trustworthy service.
The magnetic motors produce 14,000 cutting strokes every minute.
It offers the best accuracy made to run silently.
There is a single control that regulates the clipper blades from fine to rough cutting lengths depending on your hair and also a distinctive upper blade for extra reinforcement while cutting.
Useful thumb managed switch for easy on and off operation.
Intended for long-lasting use.
Ideal for all-around cutting and thinning of the hair.
Consists of 120V, 60Hz
Click here to check if this Andis' Clippers' price has increased.

Key Advantages
Flawless for thinning and shaping hair.
Precision manufactured to function as quietly as possible.
Indestructible and lightweight for easy handling.
Secure, easy-grip design for a comfortable feel.
Adjustability: The control which manages the blades can switch to various sizes in order to reach delicate areas around the head without difficulty.
Quality Blades: The blades are created of stainless steel which guarantees safety from rust and are sharp enough to offer the prefect touch.
Criteria + Rating
Ratings, Reviews and Recommendations

According to reviews, the Andis FadeMaster Clipper has a 3.7 out of 5-Star rating. This rating is founded on Amazon's 5-Star rating system. Out of the 98 customers, presently, who have purchased these clippers:
44 customers have given them a 5-Star
15 customers have given them a 4-Star
6 customers have given them a 3-Star
9 customers have given them a 2-Star
24 customers have given them a 1-Star
Click here to read these reviews on Amazon
These clippers are comfy in the hands because of the unique design. The great thing is that it has a heavy duty motor that will let you to cut through dry and wet hair.
My criticisms are minor and one is they are a lot noisier than most clippers. You must fine-tune them to find that perfect spot but even when you adjust, they are still louder than your standard clippers. Second issue is that they are a bit heavier than most people would like, but it is manageable.
If you usually do a lot of fading, the vital points far outweigh the negative issues. The cost for the FADE Professional Clipper is usually between $60 and $80. So, they are relatively more inexpensive than your other Andis clippers, but they do offer some great blades for fading.
Conclusion
Hair experts are conscious that the Andis Master is a flawless device for all-around fading and outlining, and is perfect for cutting. This proficient hair clipper comes with an indestructible aluminum casing, and chromed protection. Irrespective of whether your hair is wet or dry, it gives you excellent cutting on both. One vital aspect to remember is to keep it spotless and dry to enjoy the long-lasting benefits. You can put it in a case after cleaning to stop the build-up of dirt or oil. If this sounds like the right clipper for you, then click here to purchase yours. Say goodbye to your barber and hello to you awesome new cut.
Get Andis Fade Master with Fade Blade Hair Clipper (01690) on Amazon
In this article: