Say what you want, but you gotta admit that lesbians are rocking awesome hairstyles since forever! Short lesbian haircuts have never left the fashion scene. There's something about their haircuts that set them apart from the rest of the female population.
Check out these anything-but-boring lesbian haircuts and ask yourself, what lesbian haircut do I want to rock today?
1. The Quiff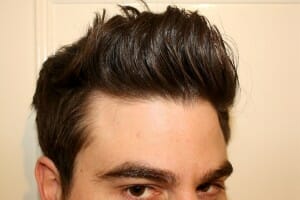 This year the Quiff haircut has evolved from being a haircut for males to a modern and trending unisex cut, especially loved by lesbians. This short haircut requires more hair on the top and less hair on the back and the sides. The key to the perfect Quiff hairstyle is finding a balance between the shortness on the back and the sides and the volume at the top. Blond or brunette, it doesn't matter – rock this hairstyle, girl! The Quiff will upgrade your style, and moreover, you will be an inspiration for other lesbians!
2. Shaved head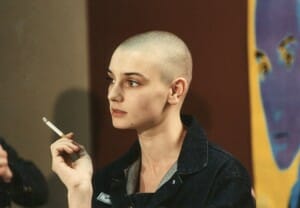 Between her Irish accent, the wonderful eyes, the amazing music and her awesome attitude Sinead O'Connor is a goddess to all the lesbians. That's right, we can't talk about shaved head without mentioning her. Now, I understand it takes a lot of confidence to pull off this haircut, but don't you want to show to the world that you can look fabulous even without hair?
Plus, you will be showered with compliments once you shave your head. Okay, the compliments will come your way only if you have a perfectly-shaped head – believe me, you don't want to learn this the hard way. Shaved head makes an edgy and strong statement, but review our checklist (and this one) before trying this haircut.
Ready to dive in? Read our guide on how to cut your own hair with clippers.
3. The pixie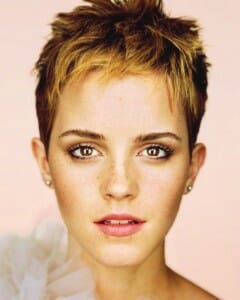 The Pixie is a powerful and gorgeous haircut that suits lesbians with a powerful personality. We like it so much we even featured it in another article. Needless to say, hair type and face shape play an important role when it comes to this haircut, but those with an oval face shape will look great with this hairstyle.
Sophisticated and edgy, the Pixie is more hair and less scare. It's a short haircut that has gained popularity among everyone, especially lesbians. If you have decided to try this hairstyle, I assure you that it will result in a style of brilliance only if your face shape is in balance with it. Fast and easy to wash, dry and style. If you want a change, all you have to do is dye your hair.
4. Faux hawk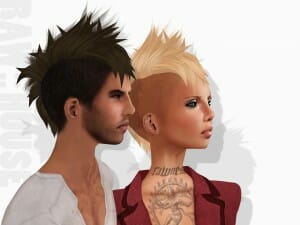 Bands like Scissor Sisters and Tegan and Sara have influenced the lesbian population into faux-hawking their hair. This is for lesbians out there who want to try something daring and sexy. With plenty of different options to choose from, this alternative lesbian haircut works for any hair length.
Faux Hawk is a version of the Mohawk hairstyle (typical lesbian haircut, amirite??), but it looks more feminine and appealing because no shaving is required. You can try a huge updo, color the sides in a different color than the top, or contrast the Mohawk hairstyle with piecey bangs. You can now open up your face and reveal your cheekbones with this super hot hairstyle.
All in all, lesbian hairstyles are governed by two forces: ease of implementation and the hairstyle of the superhot character on the newest gay drama. Try any of these lesbian haircuts and bring out the dyke in you!
In this article: