Something in short hair is just so attractive and sexy. Whether it is the highlights of the facial features or the hairstyle itself that boosts confidence, we have gathered the best short haircuts for women and men that might give you inspiration to take the leap.
Stylish Hairstyles for Women with Short Hair
Short hair can also be sexy and cool. In fact, there are many trending hairstyles for short hair.
1. Asymmetrical Bob
Bob haircuts are becoming trendy today. This hairstyle allows you to show off your neck as it appears to be longer. It also has distinct partition with hair longer on one side. This hairstyle is also great for any hair color. Plus you can combine it with an undercut.

2. Dazzling Tousled Style

If you want to experience a Hollywood hairstyle, you might want to try this tousled hairstyle bob of Taylor Swift. The hair is cut short above the shoulders with shorter hair from the back.
Bangs can also highlight the facial features while the rest of the hair makes smooth curls to make a dazzling frame.
3 Gorgeous Pixie Haircut

You can always make your short hair stunning with pixie haircut. By simply making the top messy with undefined hair partition can add more spice to your look. It also highlights your smoky eyes so you can just be you even without long hair.
4. Lovely Curls for Short Hair

For more stylish look, you can always give your short hair soft curls. This hairstyle has hair partition at the side to make slanted frame while the bangs produce spiral waves. It is definitely attractive and can make you stand out among the crowd.
5. Short Swept Hairstyle

This is an Apple haircut with side swept style. It is slightly wavy with layers to give highlights to the tips of the hair. While the front hair makes a soft wave from the forehead, the rest of the hair is neatly done at the back. This hairstyle is perfect for attending special occasions.
6. Glamorous Wavy Bob

You can keep your short hair simple and still look glamorous with this hairstyle. You can also dye your hair with caramel color. This style is perfect for attending formal parties and also great for office setting.
7. Punky Style

If you want to appear like a total rock star, this hairstyle could be the right one from hair styles for short hair for you. It has uneven layers with sharp edges that can give highlights to your facial features. You can also apply your smoky eye shadow and you can rock like Avril among the crowd.
Speaking of Kristen Steward, here are a few more lesbian haircuts for you to consider ;)
8. Spiky Pixie

Another stylish hairstyle for short hair is the spiky pixie. Not only men can look awesome with spiky styles but also women. This style has bangs combed sideways while the top level is styled to make spiky effect.
Stylish Hairstyles for Men with Short Hair
Not only women love stylish hair but also men. Here are some stylish masculine short haircuts that might give you some inspiration.
1. Short and Slightly Messy

Rather than a simple and short haircut, this hairstyle is a bit messy on the front area. Both sides are trimmed with scissors while maintaining significant amount of hair on top to make smooth wave. This style is perfect not only for outdoors but also in office settings.
2. Faded Sides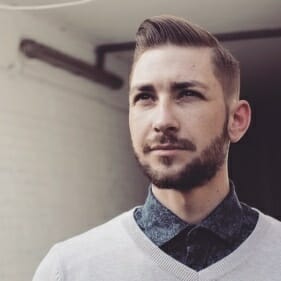 This hairstyle definitely makes a man appear more sexy and classy. Both sides are faded and look neat while the top has medium length hair and combed to the side and back.
This hairstyle is also one of the best hair styles for short hair for attending formal events and special occasions. Click here to learn how to do it at home!
3. Smart Style

For a smarter look, this sleek hairstyle might be the one you are looking for. It has a defined hair parting at the side as the rest of the hair has been combed to the side and back. This stylish hairstyle is one of the cleanest hair styles for short hair and is perfect for men working in corporate companies.
4. Tousled Hairstyle

This hairstyle is slightly messy on the top level but still presentable for office setting. Both sides are cut short while the top has medium length so you can apply styles like waves. This hairstyle also gives more volume to your hair and makes it appear thicker.
5. Sleek and Shaved

In this stylish hairstyle, both sides are shaved which gives more highlights to the top hair. The top hair has been smoothed and combed backwards that can reflect the light. It's also called undercut. This hairstyle is perfect for formal events and office setting.
6. Super Short

Another stylish hairstyle for short hair is to make it super short. This emphasizes your facial features so you can just go out and tell the world your awesome features even with very short hair. It is great not only for business meetings but also for outdoor activities.
7. Classic Cut

This classic hairstyle is divided into sections and combed backwards. The middle section or top level appears to be buoyant than the rest of the hair. It is simple yet stylish enough to catch the attention.
Also read this guide to learn how to cut a punk mohawk at home!
In this article: